Research is starting to reveal the potential of mouthwashing procedures as an additional protection against viral and bacterial infections. Citrox® is one of the key ingredients of gargling solutions that helps fight them.
But what is it really, and how does it work?
Keeping the mouths of your patients free from infection affects not only their oral health, but also has long-term effects on their general, long-term well-being. While not meant as primary means of fighting infection, Citrox® is an important ingredient in several mouthwash solutions and provides additional protection against bacteria and viruses when it's needed most, such as after surgery or during epidemics.
What is Citrox®?
Citrox® is a natural combination of organic acids, and bioflavonoids derived from bitter oranges. It has been designed to serve as a powerful antimicrobial, antiviral and antifungal agent.
Slowly proving itself as an important ingredient in efficient mouthwash solutions, we believe that Citrox®, together with cyclodextrins, will play a crucial role in the future of oral healthcare. Health starts in the mouth, and using mouthwashes to protect the mucous membranes against harm can help lower the risk of your patients becoming infected and developing a range of serious non-communicable diseases and conditions.
How does Citrox® work against bacteria and viruses?
The effect of Citrox® largely comes down to the flavonoids in it.
The bioflavonoids bind to bacteria's receptor sites, blocking the passages that bacteria need for feeding and emptying. Unable to sustain these processes, the bacteria essentially drown, killed by the flavonoid.
Furthermore, unlike some other compounds used for infection control in dentistry, Citrox® is non-toxic, non-corrosive, non-carcinogenic and non-allergenic. It doesn't stain teeth or alter food flavor, and it's dermatologically tested, biodegradable, safe and eco-friendly.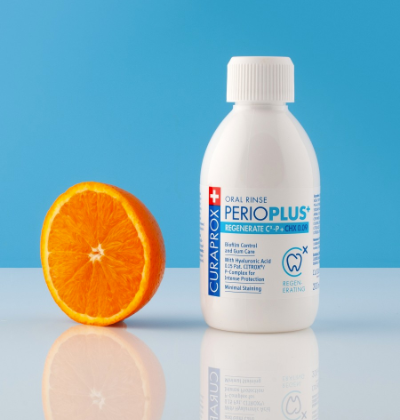 Patients can reap the benefits of natural ingredients. Try a new generation of mouth washes – Curaprox Perio Plus
When can Citrox® help?
Citrox® has been designed as an ingredient in oral care products, enhancing their healing and protective effects. Citrox®-enabled mouth rinses can help especially:
Before and after oral surgery
Against periodontal disease
Against candidal infections
Combined with other ingredients (such as chlorhexidine), serving as an important additional protection
In these situations, Citrox®-containing oral health products can form part of the prophylactic measures that you can recommend to your patients to help them keep their oral mucosa protected, helping reduce risk of infection. 
Learn more about additional valuable compounds for your dental practice and how they benefit your patients, in our summary on cyclodextrins and how they work and how mouthwashes and gargling can serve as an important additional protection against infection.
In the end, it's complex care of the mucous tissues what helps protect the patient from becoming infected.And with mouth rinse procedures being fast and easy to apply, we believe that in the future, they will become even more important for keeping your patients healthy – especially in situations when the mucosa is exposed to physical stress such as after surgical procedures or during viral epidemics.
---
Sources:
Antimicrobial activity of Citrox (R) bioflavonoid preparations against oral microorganisms