This is Hydrosonic Pro: an electric toothbrush designed for advanced tasks in oral hygiene. It was conceived to help people with braces, implants, sensitive enamel and gum disease, but over time grew to become our most advanced oral hygiene system to date.
Here is what it does and what makes it special.
Curaprox's softest heads
Hydrosonic Pro comes with three specialised brush heads created with high-density Curen® filaments – Curaprox's softest and most advanced material used in toothbrushes.
Power
A soft and powerful brush head for everyday use. Best results for healthy enamel and gums.
Sensitive
Extra-soft Curen® filaments for sensitive teeth and gums.
Single
Ultra-high-density filaments for precision cleaning around hard-to-reach areas.
Why Curen?
The Curen filaments are ultra-thin and soft, with rounded ends to protect your teeth.
All Curaprox brush heads come with high-density filaments, which allows for efficient cleaning at minimal pressure. With Curen, all you need for great results is a gentle brushing stroke – the filaments do the rest. No discomfort, no abrasion, just easy cleaning and silky-smooth teeth.
The right angle
All brush heads are tilted at a slight angle to ensure better reach and optimal cleaning angles. Reaching your back molars or around your braces or implants won't be a problem.
The Sonic motor
The Hydrosonic Pro is powered by a high-speed precision motor that translates motion onto the brush head. Each movement of the motor is the equivalent of a brush stroke, and the Hydrosonic goes as fast as 42,000 strokes per minute. At this speed, the vibration of the brush head creates a hydrodynamic effect that leads to dramatic increases in cleaning efficiency.
The seven modes for every task
The motor runs in seven modes depending on your tasks and the current state of your teeth. For weakened enamel and gums, use the sensitive brush head and start with the second mode, which is 32,000 low-amplitude strokes, ensuring the most gentle cleaning action. When teeth and gums get stronger, proceed with higher speeds.
The LED light will help you make sure you are always in the right mode.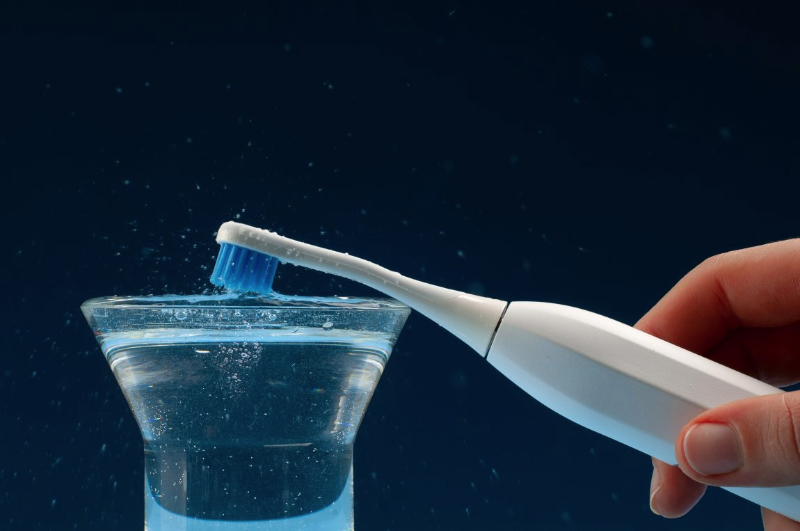 Ever heard of the hydrodynamic effect?
The 42,000 strokes are there for a reason. Above roughly 30,000 strokes, the vibration in the brush filaments creates turbulence in the fluids in your mouth.
This turbulence causes the mix of toothpaste and saliva to find its way into the interdental spaces, niches and sulcus (or pockets) where it disturbs the tooth plaque, and the bacteria creating it.
The swirling bristles force this activated fluid to go exactly where it needs to be, but where the bristles cannot reach on their own.
All packed and ready to go
The Hydrosonic Pro comes in a compact travel case that fits in most toiletry bags. Charge it before going on a short trip, and for longer voyages, a compact USB-powered charger will keep the system up and running.
The whole package, for the best oral care
The Hydrosonic Pro was originally designed for people with braces and implants, but was later adopted by health-conscious people all around the world.
Here at Curaden we strive to offer unprecedented cleaning, accuracy, protection and ease of use in every product. This is the best we have so far.